Archive for February, 2013
Last week, Keith Senkowski wrote this brilliant piece on his discoveries regarding his Kickstarter campaign. I recommend you read all of it. There's one bit that resonates with me:
I first thought Kickstarter would be the venue to get funding to help me justify the time spent on a project like that. I was wrong. People want stuff for their money, not to proudly say they supported me in my effort to create a book they could look at pictures of on the internet or see when they met up with me.
In my experience, that's half-right. It's all about whatever the individual funder is buying for himself. And that changes as the tiers increase in cost and value.
The low tiers in a crowdfunding more or less mesh with that. Not always, but you can assume so. If someone's buying a PDF or book as a tier, there may be a "hey, I think these guys are cool, I'll give them some money," but always tied to "because I get a thing from it." (After all, if there wasn't that component, folks would just give you free money.)
The higher the tiers go, the more that shifts into selling exclusivity and philanthropism side by side. At these theirs, people are buying into stories about themselves as much as they are whatever you're selling. "I'm the sort of person who can afford to give this artist this much money." But those people still want something for their money, otherwise the personal narrative shifts form "hey, look at this art I funded" to "hey, I got swindled."
Something to keep in mind as you're crafting your tiers. Too many not only causes indecision, it also creates less of an implied social strata for people to buy into. And the narrative accompanying your second tier is often "I can't afford to do crazy, but I can afford to do better than the first tier," which means you need to make sure your costs don't jar against that idea.
Crafting tiers is an arcane art and science, because at the end of the day crowdfunding is as much as making something for people as it is funding internal consumer narratives. Not more, not less. And that's what makes it hard.
- Ryan
I keep hearing this from various creators in very public spaces, and now I'm just going to get mouthy about it: don't hate on your audience.
I am sick of hearing "gamers/readers/viewers are dumb/annoying/entitled/etc." If you're one of those people, here are four possible solutions to your "problem:"
Influence Your Audience to Change
If you have a problem with your audience, try to be the change you want to see. That starts with treating them like they're worth your time and respect, and show them how to be those people. It's a long game, but it's not unobtainable.
Does that sounds like too much work? Bummer, but luckily for you I have other solutions!
Change Your Audience
Maybe if you change what you're doing and start making stuff for a completely different set of people, you'll find less frustration in your life. Now, to some degree you have the "people are people everywhere" bit, so some things won're appear to change. But different crowds have different sets of expectations and learned behaviors, and more importantly they might not have much knowledge of what you used to do and the sort of audience issues you've had in the past.
Hey, it could work. But again, that's a lot of work to shift in a dramatically different audience.
Quit
This is not a joke. If you're constantly complaining about the people you sell to (especially if you rely on it for your livelihood), quit. Get out of it. If you're not happy, you're just going to keep making the people you make stuff for unhappy with you and drag down the spirits of colleagues. Don't be that guy. Take the talents you've gained and apply them to some other vocation, or take some time off for yourself. Whatever you can afford to do.
Finally, if you can't change people, move to a new audience, or quit…
Shut the Fuck Up
Bitching about your audience in public spaces just shows you have contempt for people you're vying for the attention of, and makes those people who would otherwise be your fans or colleagues look at you as a barrel of toxicity.
I get that we all need to vent from time to time.[1] Trust me, I do often on IM or over a beer. But if you're so bitter and filled with contempt for your audience that your personal message is inseparable from your bitterness, it's time for a change. Because by that time, no one believes you give a shit about the people you're making stuff for, and that means no one believes you'll deliver something worth their time and money.
And maybe don't drag others down into your hole of bitterness with you.
Addendum: You may find that by keeping that to yourself and to private venues, you actually start to like humanity a bit more. That happened to me.
- Ryan
[1] On one hand, this is venting (with loads of typos). On another, it's also a plea to those people to just stop being so bitter and hateful in public.
If you follow me on the Twitters, you know there's this artist whose stuff I love and has Mythender inspiration written all over it. My love started with this Ben Franklin vs Zeus one: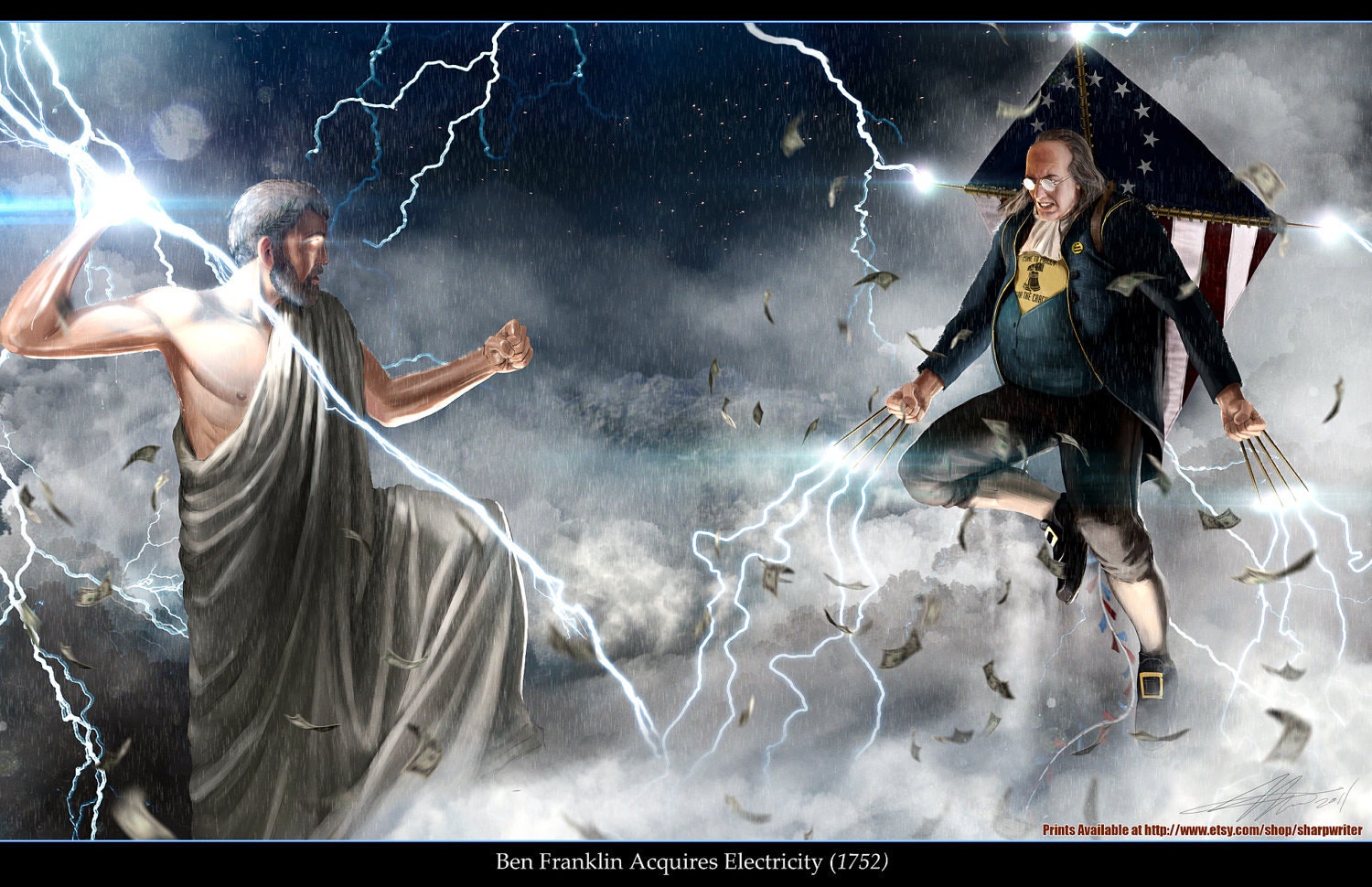 There are many other presidents. My favs among those:
Andrew Jackson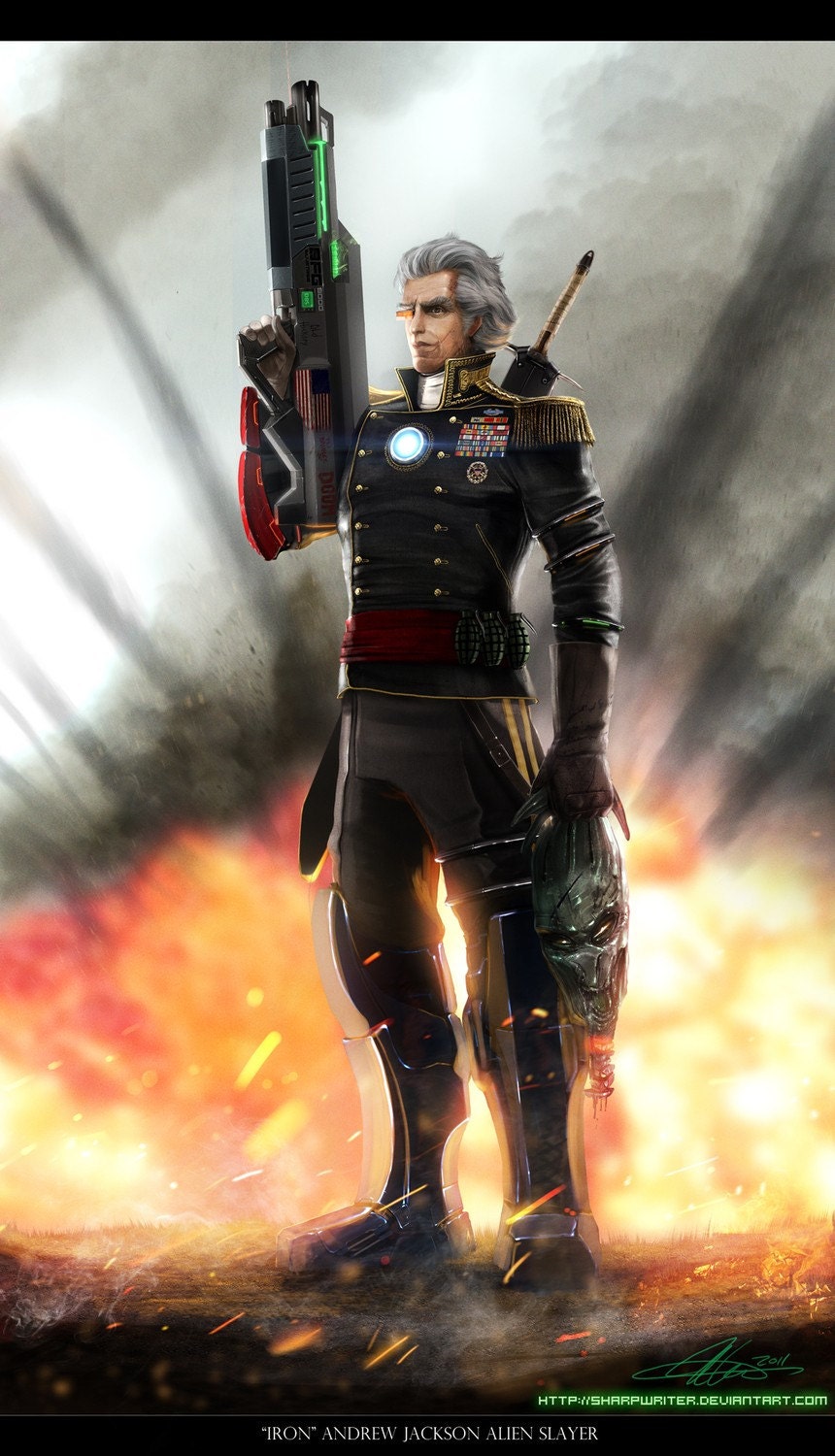 FDR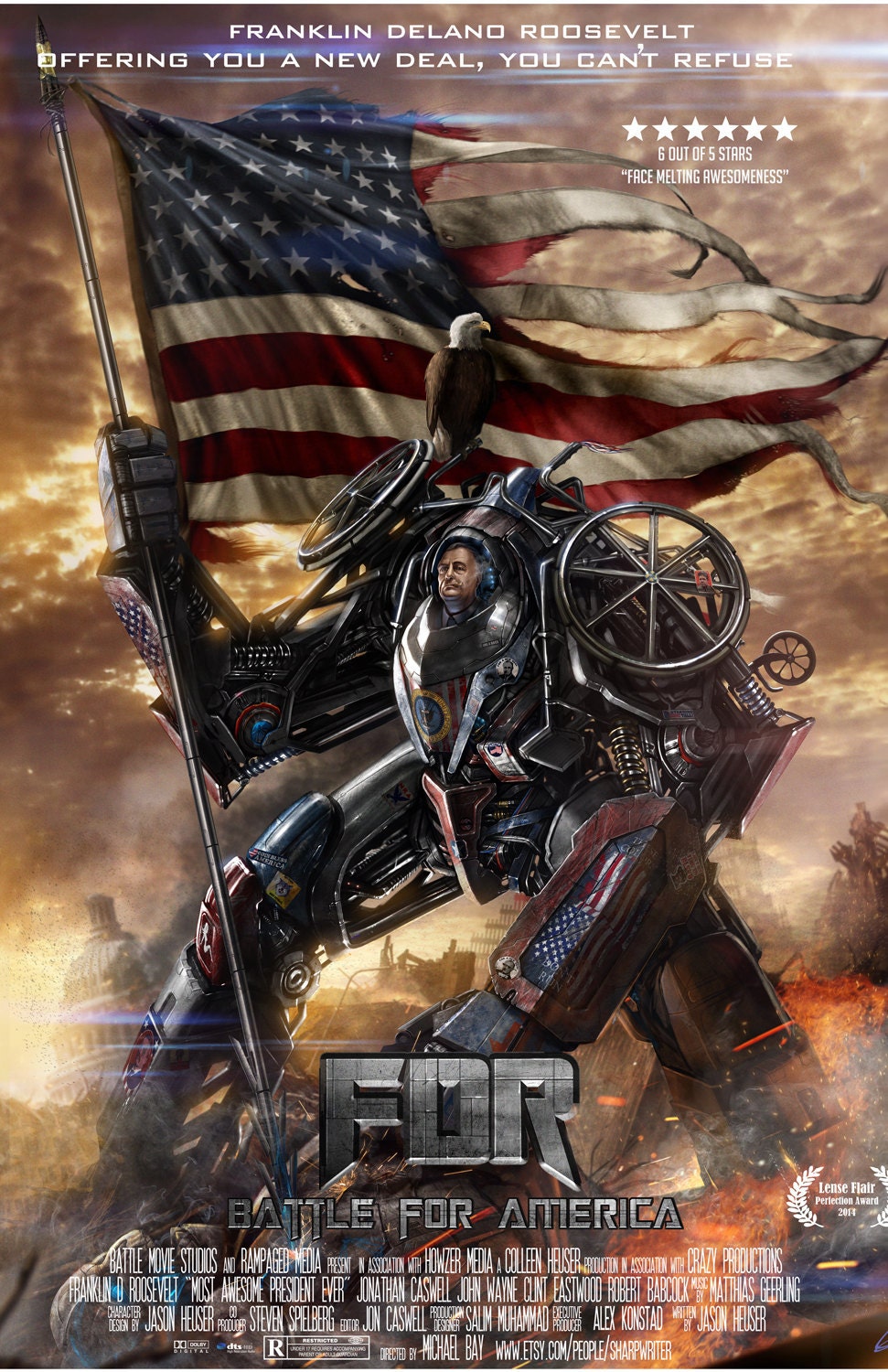 Teddy Roosevelt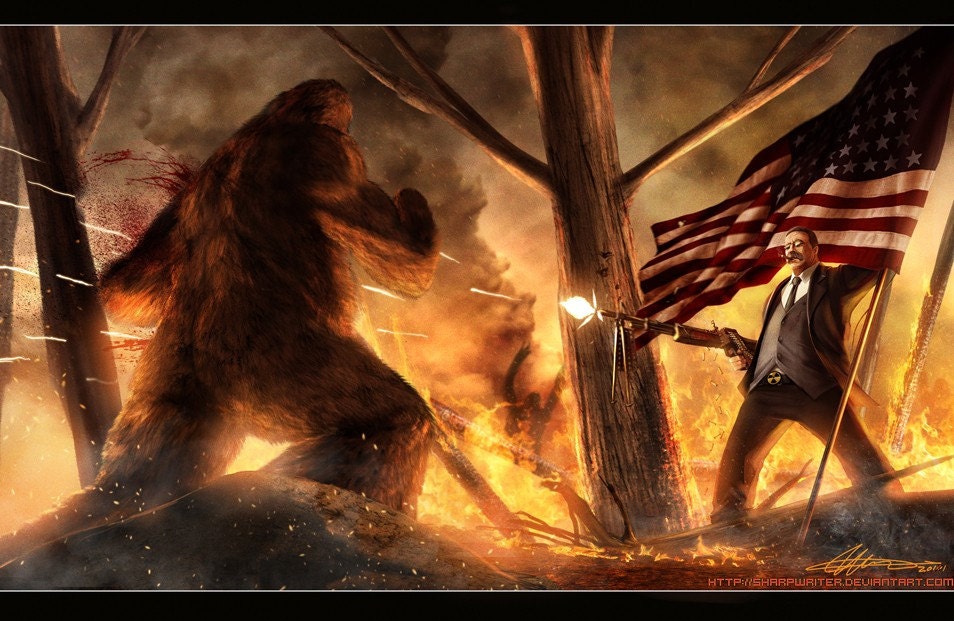 The Challenge
Stat this up as Mythenders, making true what you see in the images. What sort of Mythenders do you see when you see these Presidents of the United States of BADASSES? Feel free to make up new Hearts, Pasts and Fates.
- Ryan
Also, here's another awesome Presidential Badass bits:
Cupid is an asshole, and Mythenders will not abide Mythic assholes. This shitbag enslaves mortals in shackles of romance without regard for their true desires and free will. Fuck that noise. End Cupid!
Of course, to End Cupid, you'll need stats for him.
Cupid
Cupid is a more powerful lesser Myth, good for a middle battle on the way to Ending Venus. Start with the stats from the Fire Jotunn, page 217 in Mythender.
Weapons
Arrows of gold and arrows of lead [Relic]

Horde of enslaved mortals [Companion]
Cunning that belies my childlike nature [Intrinsic]
(If you have ideas of other Weapons, chime in!)
Gifts
As one of the six Gifts, Cupid has this custom one:
Sting of Devotion: When Cupid Wounds you, you must roll a single die. If that die is equal to or higher than your Corruption number, you gain one Corruption (but not one Fate). This has no effect on Mythenders with no Corruption or who have a Corruption track filled entirely.

For 2 Might, Cupid can increase your Corruption number by 1 on this roll. If you have no Corruption, you are still affected;  treat your Corruption number as 4.
Fuck Cupid. End him!
- Ryan
Creating rich, detailed characters with loads of back story is nothing new. It's the lonely fun that many have written about, regarding character creation and back story as the last moment that a player has full autonomy with her character. However, what is relatively new is a game's character creation scheme forcing elaborate back story and mechanizing it.
Lately, I'm starting to think that we're taking this idea too far. This hit me a few months back after playtesting a friend's game, and after character creation thinking "okay, I feel like I expended all my energy already, and don't really have much juice left to play." We played briefly, and I said that after the session.
To illustrate, I'll stick with games that folks know: Fate. In Spirit of the Century, you have a lengthy character creation process where you came up with a concept of your character's early years, and turned that into two aspects. Then your character during the Great War, and two more aspects. Then your character's signature adventure as a Centurion, and two more aspects, followed by twice inserting yourself in someone else's adventure and generating two aspects apiece.
Many people, including some of the Dresden Files RPG team, noted that people phoned in the last two or three aspects. So when we rebuilt character creation, we started with "come up with one aspect for your high concept and one for your trouble," and then the five-phase style above but with one aspect each.
After watching people make characters over the last couple years, Lenny & I decided that even that was too much. There were always a couple aspects that were meh, phoned in because they needed to be on the sheet and the game said "don't worry, you can change those later." Always a couple aspects that never worked into the game. So when it came time to rebuild character creation for Fate Core, I proposed:
Let's keep high concept and trouble[1]. That's an easy way to frame a character skeleton.

People like the collaborative element being in someone else's story. Let's keep the last three phases.[2]
One aspect per, so five total.
This decision wasn't about streamlining the game, though it has that effect. This was about playing with a new idea: let people come up with rich back story on their own terms. And because aspects can be tweaked, it follows with let people mechanize the parts of their back story they want to.
(This decision was also about trimming down character aspects in order to promote creating and playing with scene and other aspects.)
Similarly, in Mythender, I used to have people make four Weapons. Time and time again, I would watch people get excited about their first Weapon, excited about their second, and kinda interested in their third. (Sometimes more interested in their third, as the first two warmed up their brains.) But consistently on the fourth Weapon, people phoned it in and rarely used it.
That was time taken up at the table to come up with something that wouldn't actually be used. And that's creative energy expended that would be better used elsewhere. This idea is key if you want to make a game intended to be immediately engaged after character creation. (If you're making a game where character creation and all that is its own session, then creative fatigue won't impact play — unless people decide they want to do both back to back, and spoiler alert: they will.)
- Ryan
[1] Which, as the guy who came up with it before working on Dresden, I'll admit I'm partial to. Originally, I called it "Shtick, Trouble, As-Played-By," which I should blog about.
[2] Although, that's actually a hot-swappable module. You could as easily remove those three phases to be about some other dynamic and dramatically change the nature of the group. Perhaps I should blog about that, as well.